I always enjoy having one of my custom model railroad layout designs published in the commercial press. This time, it's my HO track plan for the Clinchfield Railroad in about 12'X13' in
Model Railroad Planning
2013.
My client wanted the longest possible mainline run for model railfanning and also some resemblance of modeled locations to real-life places. In about 150 square feet, I was stuck for a bit until we hit upon the idea of combining multiple decks with multiple passes around the room. This "105% solution" wound a healthy 2.5+ scale mile mainline into the space.
There was only room for one "blob" (turnback curve), so I doubled up by using the visible layout for a modest suggestion of the famous Clinchfield Loops with a hidden staging loop below. Some scenes, like the yard at Bostic, North Carolina, were fairly accurately rendered, while others don't resemble their real-life counterparts. Modulating fidelity in this way provides some accurate scenes while allowing more railroad to be packed into a given space.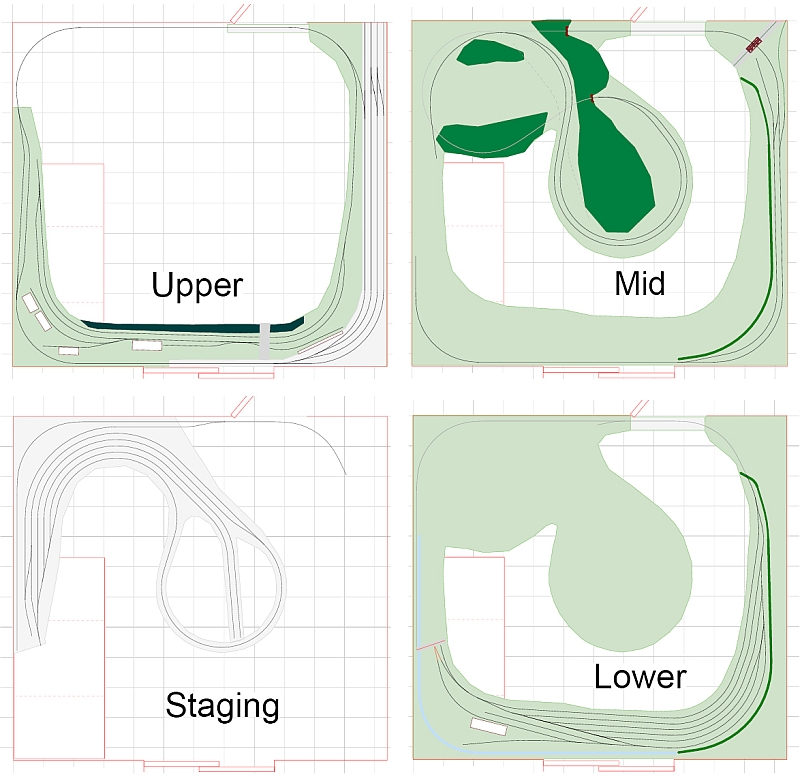 Click here for a larger view and check out MRP 2013 for the full story.
We even found room for the large desk/workbench the client desired to share the room. The only downside was multiple crossings of the door, but this was OK for him. The layout is now well under construction, with photos published in the article, along with a number of great prototype scenes photographed by
MRP
Editor Tony Koester.