It's always interesting to me to see where the track plans I've had published in
Model Railroad Planning
magazine will turn up next. When Kalmbach buys an article, they generally buy all rights, so the material can be used in another Kalmbach publication without involving the author again.
As an author, this doesn't bother me at all with Kalmbach – the copyright terms of the author agreement are very clear. My designs have been re-published in special booklets offered to new subscribers or shrink-wrapped with regular magazines, in Kalmbach books, etc.
So I thought that perhaps one (or a few) of my model railroad track plans might be featured in the recently-published
43 Track Plans from the Experts
. But the intrigue is in guessing which plans might be selected from roughly the last ten years of
Model Railroad Planning
.
While I was hoping for designs to be included that I believe are a bit more innovative (or at least different), such as the Oahu Railway multi-decker from
MRP
2008 or the folding Alameda Belt Line switching layout from
MRP
2003, my suspicion was that it would be one or more of the island-style track plans.
Which in the end, it was: the hollow-core-door-sized N scale Katy layout from
MRP
2010. Certainly a layout that I and my custom client were happy with, but not breaking a lot of new ground.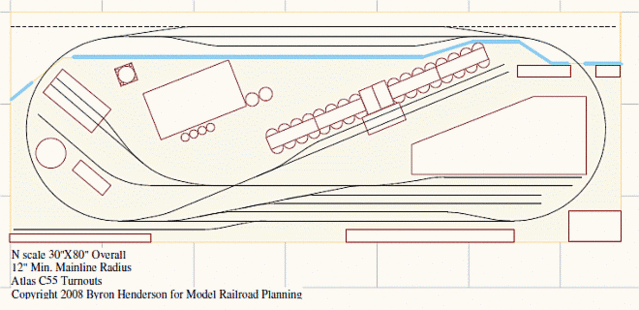 The editor(s) added some meaningful comments and found a slightly more useful prototype photo (since I couldn't clear copyrights on the best photos). All in all, I'm happy to have even one plan in the book.
Publishing a book of past plans such as this is a balancing act. While there are some innovative designs, other plans may have been chosen because they come from well-known authors or had great artwork, even if these track plans aren't exactly pioneering in terms of design (or even buildable!).
I also found the tagline on the cover slightly amusing. It reads: "Plans from 4X8 feet to a giant 38X82 feet". But of course, my 30"X80" hollow core door plan is smaller than 4X8. I guess that it's always hard to resist promoting the "sacred sheet" 4X8.
But that's the nature of the publishing business – first, it has to sell! I'm happy to have had a track plan included and I think readers who haven't seen all of the original
MRP
issues will receive a good exposure to a variety of designs through this book.